Casa Serrano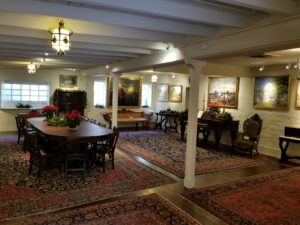 412 Pacific Street
Open Saturdays and Sundays, 2-4pm
Built 1843 – Saved 1959
Open to the public on weekends, and also available for special event rental. Casa Serrano has lived many lives: home, schoolhouse, Italian restaurant! It has a special significance in California's early history because it served simultaneously as one of the first schools after the U.S. flag was flown over the Custom House in 1846. Serrano was the teacher, and was also mayor of Monterey. MHAA was born here, in discussions over heaping plates of Cadematori's spaghetti.
The MHAA decorative arts collection, featured in historic Casa Serrano, includes handcrafted pieces that belonged to some of Monterey's first families. Many objects, including a grand piano, were shipped around Cape Horn, in the early 19th century. Some of the tables, benches, and chairs were created here in Monterey. The adobe's other period furnishings include American pieces, including examples such as a Federal secretary, and a John Belter chair. The Porter Bedroom contains the furniture of John T. Porter, a Civil War customs collector in Monterey appointed by Lincoln, who lived at the Custom House.
Rent Casa Serrano
Consider Casa Serrano for your next event.
Email Denise Barrett
or call (949) 228-8864 for rental information and site availability.