La Merienda
Monterey History and Art Association's 87th Annual La Merienda!
June 2, 2018
11:15 a.m. – 3:00 p.m.
Memory Garden, 20 Custom House Plaza, Monterey
(Enter La Merienda at the Memory Garden Gate near the entrance to Peter B's.)
La Merienda! Come celebrate the City of Monterey's 248th birthday with a very special BARBECUE BUFFET EXTRAVAGANZA, a five-star culinary experience created by the OLD FISHERMAN'S GROTTO CHEFS and the VIP Merienda Barbecue Committee, with entertainment by Mike y 30rotta, Jr. & special guests, mariachis, folklorico dancers, and a festive "Californio" party in the historic Memory Garden on Custom House Plaza.
Monterey's 248th birthday celebration "La Merienda", the City's oldest and very significant annual event, will be held on Saturday, June 2, 2018, from 11:15 am to 3 pm in the Memory Garden on Custom House Plaza. For the past 87 years, the Monterey History & Art Association has hosted this community fiesta to commemorate the founding of the City of Monterey when in 1770 Father Junipero Serra and Captain Gaspar de Portola celebrated with a picnic overlooking the Monterey Bay.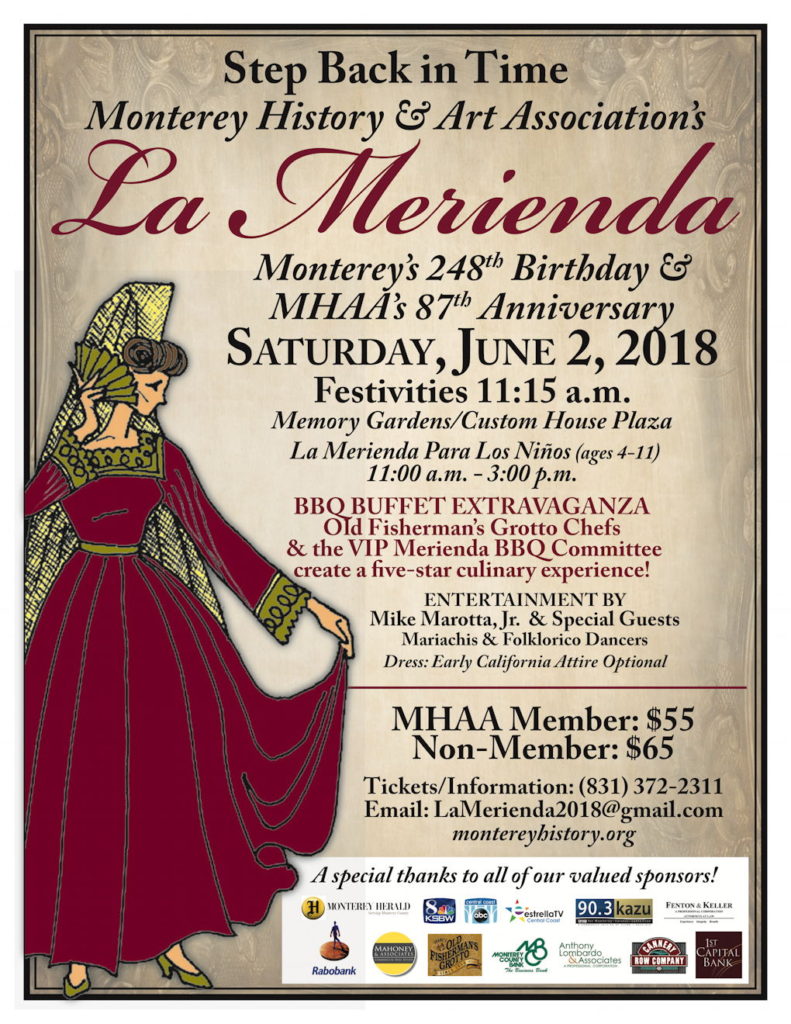 Barbecue Buffet Extravaganza!
Old Fisherman's Grotto Chefs and the VIP Merienda Barbecue Committee will create a five-star culinary experience featuring Certified Angus Beef New York steak, BBQ chicken breast, mild Italian sausage, salmon, sauteed scampi shrimp, complemented by 3 salad choices: mixed greens, pasta, and fruit salad, fire roasted sweet corn, fresh-made chili beans, fresh grilled garlic bread, fresh-made salsa and more. Included with the meal are complimentary wine, beer, coffee, tea and soft drinks. The mouth-watering feast is followed by the traditional outstanding dessert, a beautiful multi-layered birthday cake from Layers Bakery donated by Tina Del Piero and Lynn Tomlinson and decorated with fresh roses by Jackie Craghead.
This festive event includes Master of Ceremony David Marzetti, entertainment by musicians including Accordian player extraordinaire Mike Marotta, Jr. & special guests, mariachis, and folklorico dancers, gallant dons and donas, and lovely senoritas.  The barbecue committee headed by Chris Shake is composed of local elected officials and well-known community members that prepare and serve the food at this event. There will also be a Silent Auction and 50/50 drawing. All guests are welcome to dress in 18th century costume (optional).
La Merienda Barbecue Committee
The La Merienda Barbecue is always served by well-known community members. In past years, La Merienda Barbecue servers have included Peter Coniglio, who coordinated this part of the event in the past for over 40 years, with Chris Shake taking it on in 2015. Honorable Leon Panetta, former Secretary of Defense and Director of CIA, Congressman Jimmy Panetta, State Senator Bill Monning, California State Assemblymember Mark Stone, Councilman Dan Albert, former Mayor Dan Albert, Dan Baldwin, Mike Bruno, Ted Balestreri, Sr., Teddy Balestreri, Marc and Eric DelPiero, Jay Hudson, George Kodama, Nino Palma, John Narigi, Carmelo Tringali, Bert Cutino, Bart Cutino, Jim Davi, Jeff Krebs, Rolf Trautsch, Dr. Darnel Whitt, Sam Phillips, Sabu Shake, Jr., Chris Panetta, Kenny Gordon, Gaspar Cardinale, Richard Crowell, Tony Leyva, Bob Masarro, Richard Pepe, Santo Tarantino, Lynn Tomlinson, Tina del Piero, Al Nicora and John Lotz compose some of the barbecue team in the recent past. The final confirmed 2018 La Merienda crew will be determined closer to the event date!
Community Members are invited to Host a Party Within the Party!
La Merienda can be described as a "party within a party" with uniquely decorated hosted tables. Attendees invite friends, don a costume, decorate a table, and have fun at this festive event! Local companies are encouraged to purchase a table for their staff or special customers. Or, just come for the celebration, join a table and make some new friends. Meet elected officials, military leaders, and local dignitaries at this not-to-be-missed annual event! This outstanding party attracts over 500 people each year. Monterey History & Art Association (MHAA) has hosted this party for the last 85 years and all proceeds go towards supporting Monterey's history and arts programs. For further information, call (831) 372-2311 or email lamerienda2018@gmail.com.
Parking
With the purchase of a ticket, FREE PARKING will be available in the City of Monterey's WEST GARAGE parking lot on Franklin Street behind the Wells Fargo Bank. Your free parking pass will be given to you upon check in at the Memory Garden Gate as you enter La Merienda. Additional paid parking is available in the Waterfront parking lot adjacent to Monterey's Old Fisherman's Wharf or in the parking lot on Scott Street above Pacific Street.
About La Merienda
La Merienda (Spanish word for picnic) includes great food and entertainment, a procession, and much, much more. This not-to-be missed very special community event celebrates the founding of the City of Monterey in June 1770 when Father Junipero Serra (recently canonized as a Saint by Pope Francis) and Captain Gaspar de Portola celebrated with a picnic overlooking the Monterey Bay.
La Merienda, Monterey's birthday party, is a colorful fiesta barbecue of delicious foods, wine, beer, soft drinks, gallant dons and donas, lovely senoritas, lively music and festive dance.  La Merienda (the Spanish term for afternoon picnic or mid-day meal) re-enacts an elegant 18th century fiesta. It celebrates the founding of the town of Monterey on June 3, 1770 when Padre Junípero Serra, father of the California missions (now Saint Serra), and Captain Gaspar de Portola, a Spanish military leader, joined forces to establish the pueblo of Monterey, California's first Capital. Their meeting also honored the founding of the "Royal Presidio Chapel", which today is known as San Carlos Cathedral.
After the ceremonies that day, everyone sat down for a picnic under a large oak tree near their ship, the San Antonio, which rested in the harbor. The first modern Merienda was celebrated in 1929, two years before the formation of the Monterey History & Art Association. A ceremony at Colton Hall and a small luncheon at the Memory Garden marked the occasion. It was presided over by Carmel Martin and Harry Greene. The next year, 350 people joined Carmel Martin, who again acted as Master of Ceremonies, in the Memory Garden and once again celebrated Monterey's birthday.  The Monterey History & Art Association has celebrated this important early California historic event every year since the Association was established in 1931 (except one year during World War II).
Each year since La Merienda was founded, a local young woman with historic connections to Monterey is chosen as La Favorita, and with her lovely court, reigns over this unique celebration of Monterey's history. Two other young women are selected to serve as her attendants ("Doncellas"). The women who are chosen for these roles, accompanied by a chaperone ("La Duena") can trace their ancestry back through Monterey history many generations. These attractive young women dress in traditional white Spanish gowns and mantillas (scarfs) and greet guests, cut the birthday cake and hold court at the celebration.
The large rose-adorned birthday cake is carried in by local young men ("cake-bearers"), and is sliced with the sword of Colonel Roger S. Fitch, the first President of the Monterey History & Art Association. This event has been sponsored annually by the Monterey History & Art Association for 85 years. Members of Monterey History & Art Association serve as voluntary hosts and hostesses in period costumes at colorfully decorated tables. All guests are also welcome to dress in 18th century costume.
The recipient of Monterey History & Art Association's most prestigious award, the Laura Bride Powers Award, is announced at La Merienda. This award is named after the woman who is credited with conceiving both the idea of the Association and the Merienda celebration, which antedated MHAA's founding. Mrs. Powers was the Curator of the Custom House and First Theater and an ardent student of California history. The 2017 Laura Bride Powers Award recipient was Joan Keysers.
The colorful celebration is held in the Memory Gardens, located near the Custom House Plaza in historic downtown Monterey behind the Portola Plaza Hotel. Festivities begin at 11:15 A. M. with dancing. The doors open to the Memory Gardens where the aromas of the delicious barbeque greet the guests. Day-long entertainment includes live music, Mariachis and folklorico dancers as well as a procession of local and international dignitaries and costumed ladies and gentlemen, reenacting an old tradition.  The gaily-decorated tables are hosted by more than 50 MHAA volunteers, who provide hospitality to the guests. After the BARBECUE BUFFET EXTRAVAGANZA (served by another 25 well-known elected officials and local volunteers) the traditional Merienda birthday cake is paraded around the Garden and then cut and served with much ceremony.
Companies can become a sponsor for $750 and receive sponsor recognition. Our current valued sponsors are Monterey County Bank, 1st Capital Bank, Rabobank, Fenton and Keller, Anthony Lombardo & Associates, Cannery Row Company, Mahoney & Associates, Mission Linen and Monterey Bay Restaurant Equipment and the media sponsors are KSBW TV, 90.3 FM KAZU Radio and The Monterey Herald.
La Merienda sponsorships, donations and other services help to defray the cost of this unique not-to-be-missed Monterey celebration. All proceeds above the cost of the Merienda itself go to Monterey History & Art Association's support and maintenance of Casa Serrano, the Doud House and the Mayo Hayes O'Donnell Library. To become a MHAA member, sponsor or donor, please call Larry Chavez, President of the Monterey History & Art Association, at (831) 869-1664 or email oldmanlsc@gmail.com.