Locations
Open to the public on weekends, and also available for special event rental. Casa Serrano has lived many lives: home, schoolhouse, Italian restaurant! It has a special significance in California's early history because it served simultaneously as one of the first schools after the U.S. flag was flown over the Custom House in 1846. Serrano was the teacher, and was also mayor of Monterey. MHAA was born here, in discussions over heaping plates of Cadematori's spaghetti.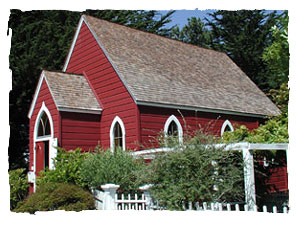 MHOD is a non circulating research library providing an extensive collection of books, photographs, scrap books, and other historical artifacts pertaining to Monterey, Monterey County, and surrounding counties.
From its founding in 1931, the purpose of the Monterey History and Art Association has been to collect, preserve and own paintings, sketches, drawing, records, books, manuscripts, charts and other material pertaining to the history and art of Monterey and California. In 1992, Stanton Center opened as a showcase for display of selected portions of the collections of the Association. These include many works by well-known local artists, contemporary artists, and historic artifacts including costumes, books, and items relating to the maritime history of Monterey. Featured art collections include Armin Hansen, Paul Whitman, Jo Mora, and Salvador Dali among others. This museum is known today as Monterey History and Art at Stanton Center.